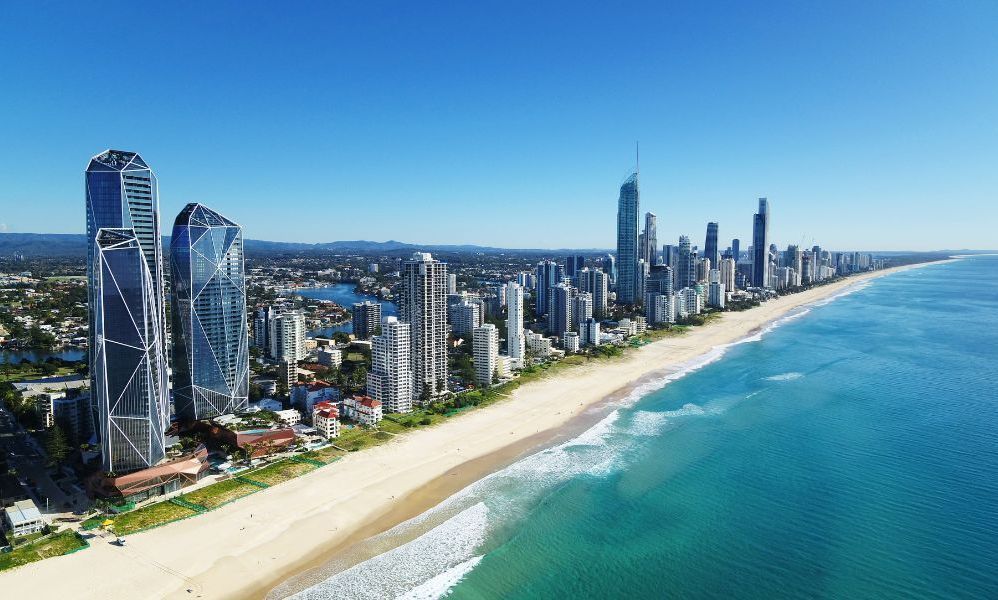 Grandeur and Opulence on the Gold Coast
When was the last time YOU experienced Gold Coast luxury?
The goal of this article isn't to explain that this region of Australia is located south of Brisbane on the east coast of our neighbour across the Tasman.
That the Gold Coast is a beachside city in Queensland.
That it is known as Australia's holiday mecca, with a diverse choice of attractions, stunning long long white sandy beaches, shopping, restaurants, major events, and so much more!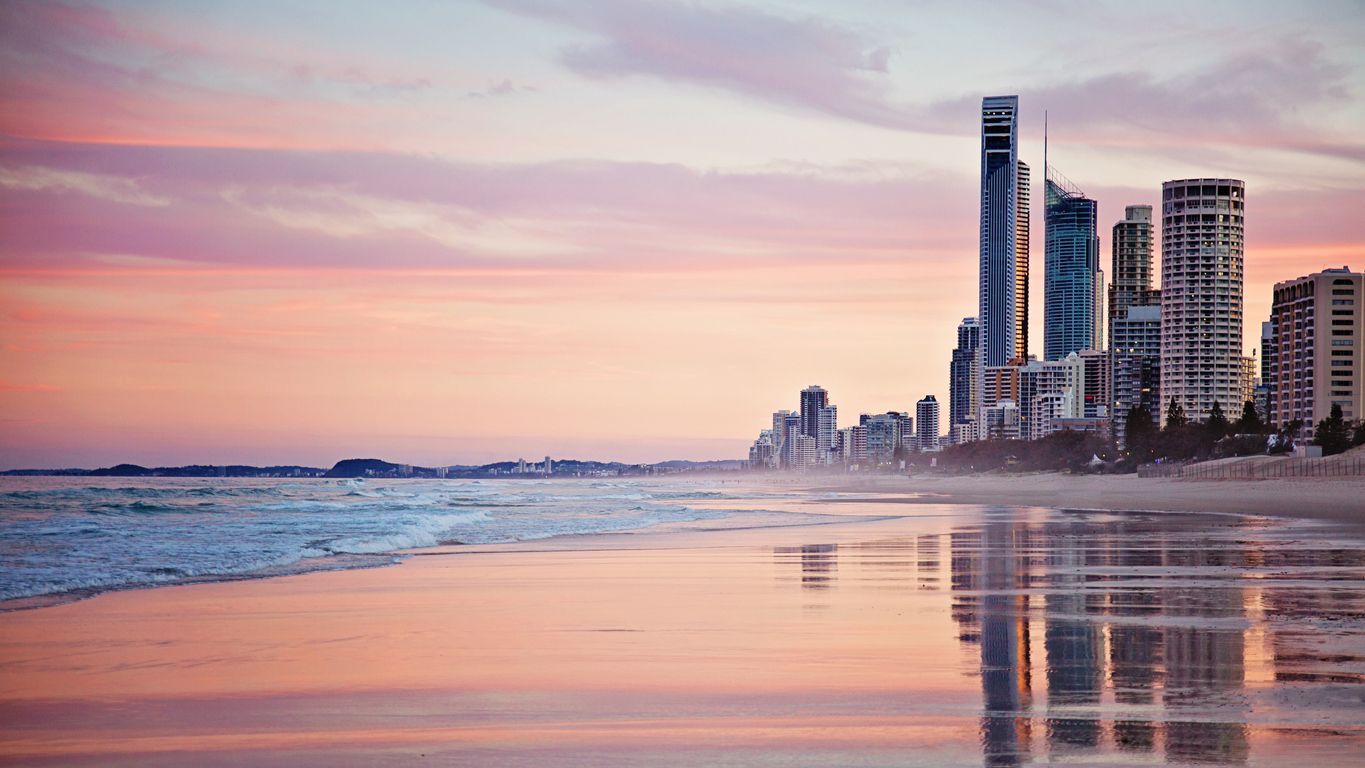 Also you must know that this is where you will find the world-famous Surfers Paradise and the seemingly ubiquitous surfing sites, the well known theme parks of Dreamworld, Warner Bros. Movie World and Wet'N'Wild to name but a few, as well as an intricate network of inland canals and waterways.
Plus of course the subtropical hinterland with rainforest walking a-plenty, cascading waterfalls and quaint country villages.
And lastly, you most likely would have either experienced or heard about the hip bars and along with thriving culinary scene in this endless summer play land.
Yes, The Gold Coast's big appeal is its beaches....
With lazy hazy warm days spent doing plenty or next to nothing, but we'd like to open your eyes, ears and heart toward the luxurious grandeur that is the Gold Coast.
Funnily enough 'Gold Coast' was a nickname that stuck, as this area was founded on luxury.
Though initially a little nouveau riche, now however you will notice an overflowing of effortless stylish luxury.
The Gold Coast will not disappoint if you value the finer things in life.
Take your pick from elite rooftop pool clubs offering VIP cabanas, multiple bars, volleyball facilities, amazing music and impressive views. There is a plethora of luxurious hotels all across the region including magnificent hinterland getaways. Extravagant entertainment is also on the menu. Fine food and 5-star activities add to the endless luxurious options.
Join us on three key areas on the Gold Coast that offer such grandeur.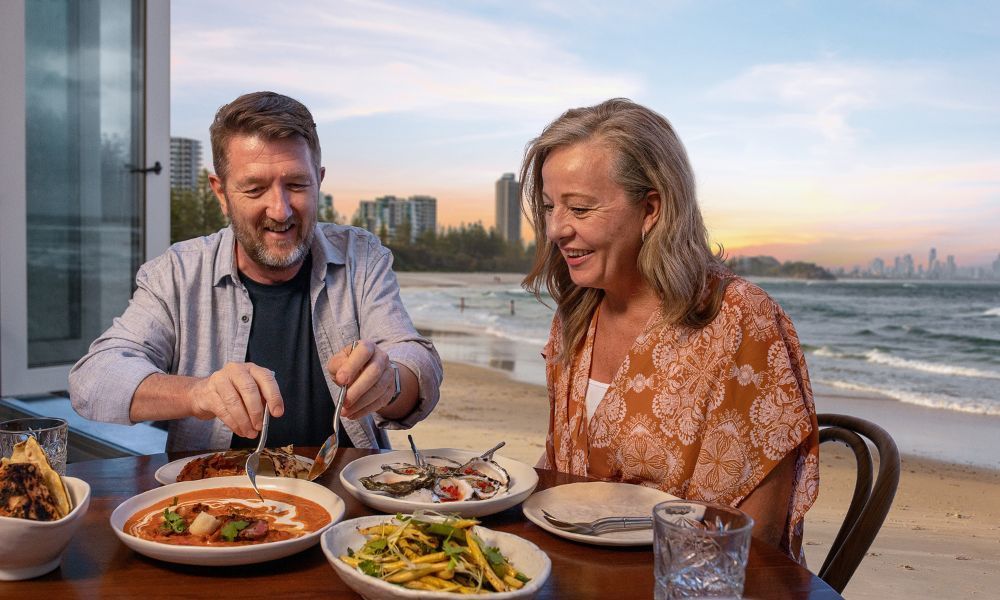 Gourmet Dining
The Gold Coast is rapidly becoming Australia's gourmet destination, with renowned chefs from other regions of Australia, such as Sydney and Melbourne gravitating to the area.
If Pan-Asian cuisine with a fancy but casual feel is your thing, be sure to get yourself to Burleigh Heads. If you've opted out of renting a car, then a bus ride with the locals will only cost you AUD$4.60 one way. Either way, once you're there this ultra-cool eatery centred around sharing is a wonderful place to relax, dine and enjoy. The music for a start is a seriously cool blend of silky-smooth jazz, new and old school funk, groove, and soul. Then of course the delectable cuisine featuring top notch sushi with an outstanding selection of fun cocktails and exemplary service will make for a fab experience. You can't go too wrong with Kin Pan-Asian Kitchen and Bar.
Meanwhile in Mermaid Beach (don't you just love the ethereal name?) The North Room is an absolutely fabulous option, with spectacular coastal European cuisine. This restaurant has very interesting degustation that is not too rich but still bringing in incredible flavours. An example being Brisbane Valley quail, parsnip cream, roasted radish and blackberries. Wow! There are 373 Google Reviews for this eatery with a menu that changes weekly, and an average star rating of 4.8 which says it all. Nestled between a skate shop and various other businesses on the Gold Coast Highway, The North Room is fine dining, but not as you'd expect it. An amazing little restaurant with exceptional personal service. Bookings are highly recommended.
There are plenty of other possibilities to please your palate, two of which deserve special mention:
Former Monopole executive chef's Alex Munoz's degustation eatery Restaurant Labart in Burleigh Heads
According to Delicious Magazine Rick Shores is Queenland's number one restaurant. The absolute beach front location would have to be one of the reasons why.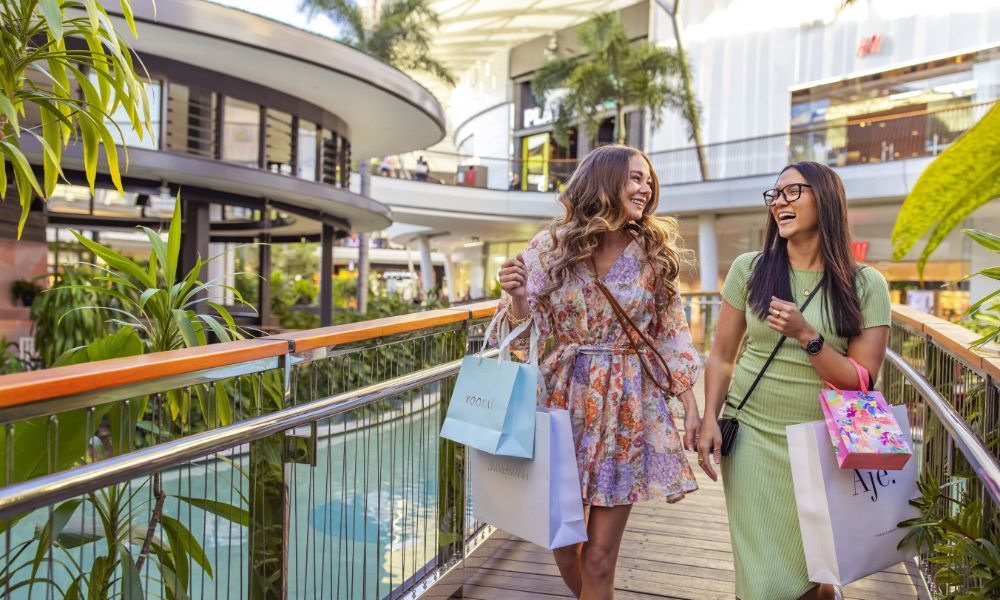 Magnificent Retail Therapy
A forty-minute drive from Pacific Fair Shopping Centre, you'll find My Country Escape, Canungra, in the Gold Coast Hinterland. This boutique fashion and homewares store nestled away from the hustle and bustle of the coast was named 2021 Scenic Rim Retail Store of the Year. An area that has more than 30,000 hectares of parkland, stunning lakes, and national parks. My Country Escape has a unique selection of gorgeous homewares, clothing, accessories, and gifts, all of the highest quality and always changing.
Mixing things up a bit, the aforementioned Pacific Fair Shopping Centre is the major shopping centre in Broadbeach Waters, on the Gold Coast. One of the most upmarket fashion retail areas in all of Australia, where you will find upwards of 400 specialty stores. Brands like Coach, Prada, Hermes, and Salvatore Ferragamo for your shopping pleasure. Look for upscale dining and movie theaters, as well as a Below Zero Cryo spa where you can get holistic whole-body wellness treatments. This shopping center has a very Australian feel to it, with lush greenery and open air spaces that make for a relaxing day or two.
Marina Mirage boasts over 90 premium designer boutiques nestled on the Broadwater with breathtaking water views. The Centre is located on Main Beach, just across from the five-star Sheraton Grand Mirage Resort and Spa and adjacent to the world's first Palazzo Versace hotel. Relax and enjoy afternoon cocktails while overlooking the harbour, or indulge in a fabulously indulgent lunch or supper at one of the numerous award-winning restaurants, including Omeros Bros. Seafood Restaurant, Glass Dining & Lounge Bar, Gods of the Sea, and La Luna Beach Club.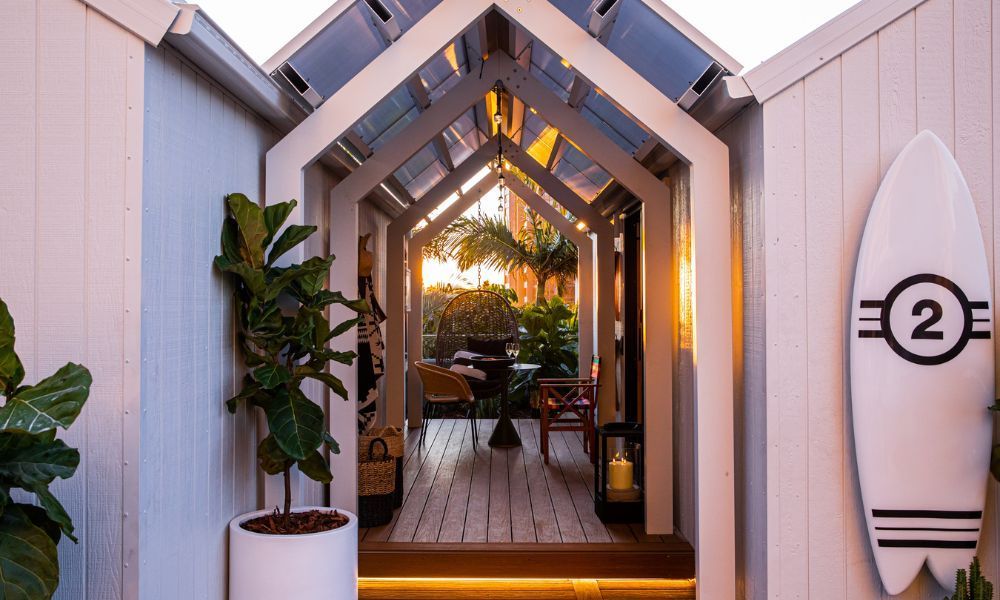 Luxe Lodgings
When it comes to resting your head on a fancy pillow, there is no shortage on the Gold Coast. Below is a list of numerous options that will completely fill your glittery gold cup.
Gold Coast qtQT: A great location, this sumptuous sanctuary can be found between Surfers Paradise and Main Beach. Set amidst tropical greenery are bold and stylish cabins with natural textures, earth tones, luxury linens, and scrummy amenities such as robes and candles, all sourced locally. Positioned on urban paradise deck, you can either book a single cabin or book out all six for a luxury small group stay. This one-of-a-kind open-air refuge exudes sophisticated coastal elegance.
Mondrian Gold Coast: Due to open in 2023 and promises to be simply stunning with thoughtfully designed interiors that are exceptionally inviting. A place that encompasses luxury, dining, lounging, and living. Mondrian is a hotel and private residences in Burleigh Heads with 5-star views to match its 5-star experience.
Gwinganna Lifestyle Retreat: The resort is located 30 minutes inland from the Gold Coast. A multi-award winning health and wellness retreat. Experience delectable organic cuisine, a wide selection of wellness focused activities, and chic accommodations, including luxury villas. Take this option if you're after a place where you can fully relax yet be indulged while making your health and wellbeing a priority.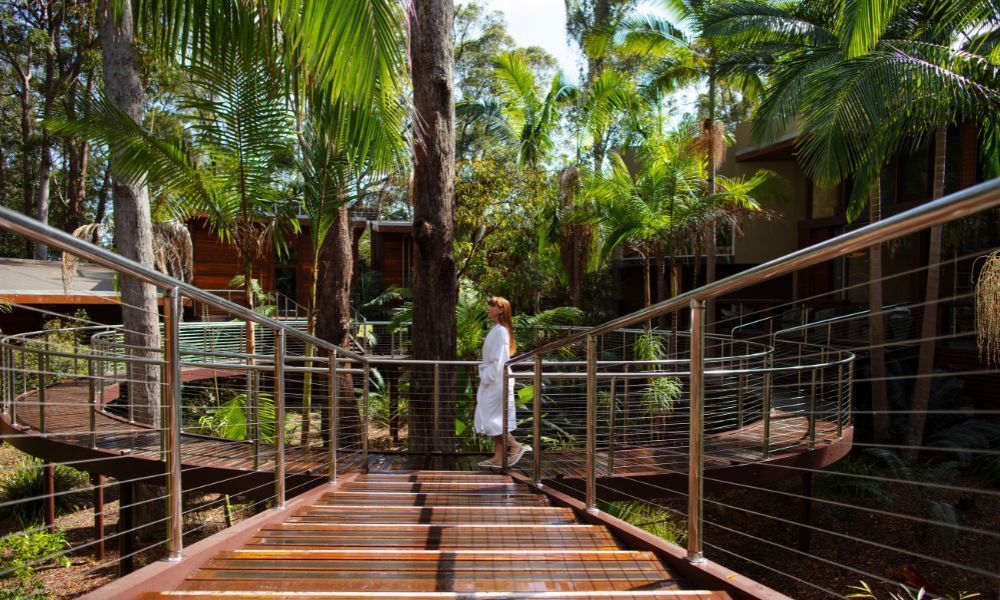 Sheraton Grand Mirage Resort and Spa: Luxury lodging with a swim-up pool bar and direct beach access. This fantastically fabulous beachfront option is only ten minutes from Surfers Paradise and fifteen minutes from The Star Casino. Every room has a view of the lush, meticulously groomed gardens, the beautiful lagoon, or the Pacific Ocean. Plus, each room includes Sheraton Sleep Experience bedding, an iPod dock, and a 55-inch flat-screen TV with the ability to Chromecast.
The Langham Gold Coast: A new addition to luxury accommodation listings on the Gold Coast, having opened in June 2022. Described as "pure posh perfection" (a line borrowed from the Inside Gold Coast website), this is a sophisticated seaside refuge on the Gold Coast. With 169 hotel rooms and 170 residences, it provides continuous views of the Pacific Ocean or the Hinterland. The Langham Gold Coast is located directly on the beach.
Palazzo Versace Hotel: Palazzo is synonymous with grandeur, splendour, and sophistication. Everything you'd expect from a Versace hotel: an exclusive waterfront setting, outstanding architecture, lavish rooms, a design distinguished by Versace bespoke furniture and Italian craftsmanship, exceptional service, and a pure glamour atmosphere. It is home to award-winning restaurants, The Beauty Room, a fitness and wellness centre, a private marina, meeting and event space, and Australia's first water salon cabana experience.
Contact your YOU Travel Agent to start planning your Gold Coast trip today!
back to top